Sales
·
Manchester Head Office
Sales Manager
Sales Manager
Salary: Up to £36K basic, £65K OTE / top performers earn in excess of £70K
Why Zuto?
Join our team of passionate Zutonites and help transform the car finance experience with simplicity and integrity.
Our journey began in 2006, and we're thrilled to have achieved significant milestones along the way. However, we're not resting just yet. We're continuously striving to reach new heights and achieve even greater successes with our team of over 450 Zutonites.
Behind taking a mortgage, buying a car is likely to be the second biggest purchase we make, and we know that our customers rely on their cars to get to work, take their children to school, take elderly relatives out at the weekend, the list goes on.
We have always said, if we were to achieve our purpose of bringing simplicity and transparency to supporting hundreds of thousands of customers into cars, this would only be half of the story. From our very beginnings, we have always known that we were creating something special at Zuto; redefining what success looks like and leaving a legacy that we could all be proud of.
Benefits of being a Sales Manager at Zuto:
· Competitive basic salary
· Uncapped commission
· Inspire and motivate a team of sales professionals and support personal development
· Internal progression
What does a day to day look like as a Sales Manager at Zuto?
· Drive sales across your team wokring towards KPI's
· Ability to identify training needs to improve performance
· Working collaboratively with the rest of the management ream to ensure success and a positive influence.
· Delivering coaching sessions to your team
· Acting with a high degree of integrity putting the customers at the heart of the process
Requirements of a Sales Manager at Zuto:
· Proven sales management experience - ideal candidate would have 18 months + sales management experience in a high activity sales environment.
· Hands on approach to management, coaching and development.
· B2B or B2C sales management experience
· A positive attitude - A positive and resilient attitude individual who will consistently perform at a high level to meet and exceed targets.
#zuto4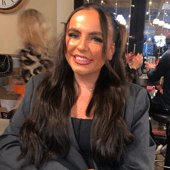 Contact
Ellen Peak
Contact Centre Recruitment Manager – People Team
Workplace & culture
We're all about enjoying our journey as Zutonites. From companywide events to team nights out – awards evenings to our internal recognition scheme, we ensure our Zutonites are recognised for values driven and achievements.
Sales
·
Manchester Head Office
Sales Manager
Loading application form
Already working at Zuto?
Let's recruit together and find your next colleague.